Exclusive interview
GRÉGOIRE BERGER
Ossiano, Atlantis the Palm – Dubai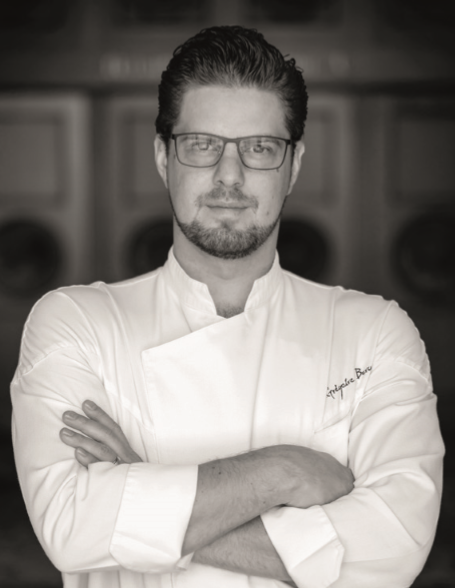 Tell us something about your career so far
To begin at the beginning, I was born and grew up in Brittany. I started by learning my skills in several Michelin-starred restaurants in my home region, before setting-off overseas. Spain, the United States with Paul Bocuse, then I opened my own restaurant in Morocco. Three years later, I was called on to assist the Chef Frédéric Robert at the Grande Cascade in Paris. After two years working for a major group, Suez Environnement, I decided to leave the French capital and move to Dubai. I joined the prestigious restaurant Ossiano at Atlantis The Palm, where I still work as Chef today.
What is your trademark? Your signature dish?
My trademark? I'd say the beautiful way the dishes are plated, strong flavours that stand out. An individual style but also an important attachment to the story-telling that surrounds each creation and invites the senses on a journey of discovery. My signature dish? There are too many to be able to name them, but perhaps one product: buckwheat.
What does Qwehli represent for you?
Quality and consistency, especially abroad where the regularity of the product often leaves much to be desired.
Which Qwehli products do you prefer?
The Patagonian toothfish, a product with infinite finesse that I love preparing in a multitude of ways at the Ossiano. An oily fish with pure white flesh that delights our customers' palates.
How do you prepare it?
With powdered nori, garlic butter, black sesame seasoning and a little crisp "Katsuobushi".
Are you convinced about the preservation techniques we use and adapt to each of our products?
Absolutely! In four years, we have never had any reason to question them.
Do you see them as a sustainable alternative to fresh fish?
Of course, because one again, when it comes to fresh produce you have to adapt in a country like Dubaï, if you want to serve a high quality dish rich in flavour
In this age of sustainable gastronomy, how do you tackle the notion of sustainability in the dishes you create?
We are in Dubai, it is therefore difficult to be truly sustainable simply because our products are imported and that has a significant energy impact. This is why, for both the product and the environment, we turn towards sustainable suppliers and producers such as Qwehli.