QWEHLI® SEA BASS CEVICHE
By Chef Chris Salans
Mozaïc – Bali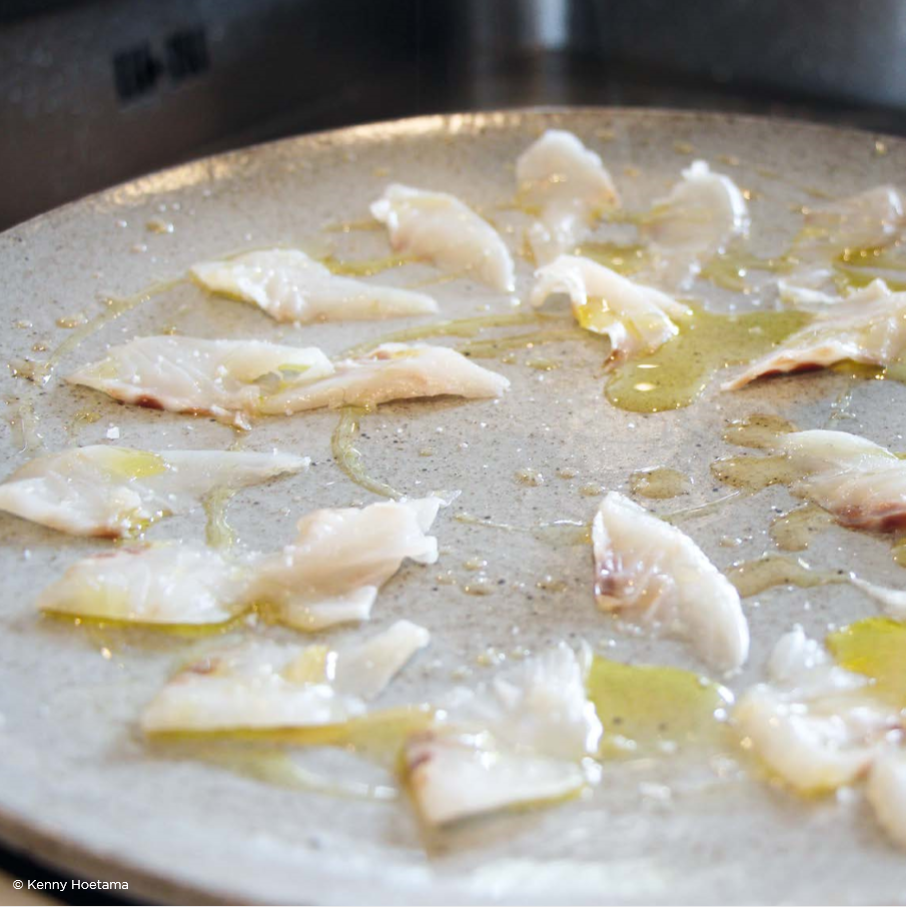 One day before:
Sea bass ceviche (done 1 day before)
TIGER'S MILK PREPARATION
• 320 g onions
• 400 g imported celery
• 20 g garlic
• 80 g ginger
• Coriander stems
• A pinch of salt
• A pinch of sugar
• Kemangi lemon basil
Mix everything in the Thermomix®. Allow to infuse 15 minutes then strain. Put into ice cube molds and freeze.
On the day:
CURE THE SEA BASS
Defrost the fish 20 minutes before marinating it by putting it in room temperature water still inside the vac bag – DO NOT OPEN the bag. For a fillet of 900 g remove the skin from the fish and marinate the fish in a mix of coarse sea salt and white sugar (1/4 sugar for coarse salt) for 6 minutes. Rinse the fillet, pat dry, wrap in paper towel (NOT PLASTIC WRAP) and allow to dry in the chiller for 2 hours.
CEVICHE SAUCE
• 200 g tiger's milk ice cubes
• 80 g raw sea bass
• 100 g lime juice
• 300 g Kara® coconut milk
• 2 pieces of bird chili
• A pinch of salt
Blend all the ingredients together and serve in shot glasses. Keep chilled.
METHOD
Slice the sea bass 3 to 4 mm thick (not too thin). Garnish with all ingredients above and serve with tiger's milk on the side.
SERVING
Cured sea bass
Santagata olive oil
Chili oil
Sea salt