QWEHLI® SARDINE & BURRATINA PUGLIESE TOMATO CARAMEL, QUINOA CRISP
Chef Gregoire Berger
– Ossiano Atlantis The Palm – Dubaï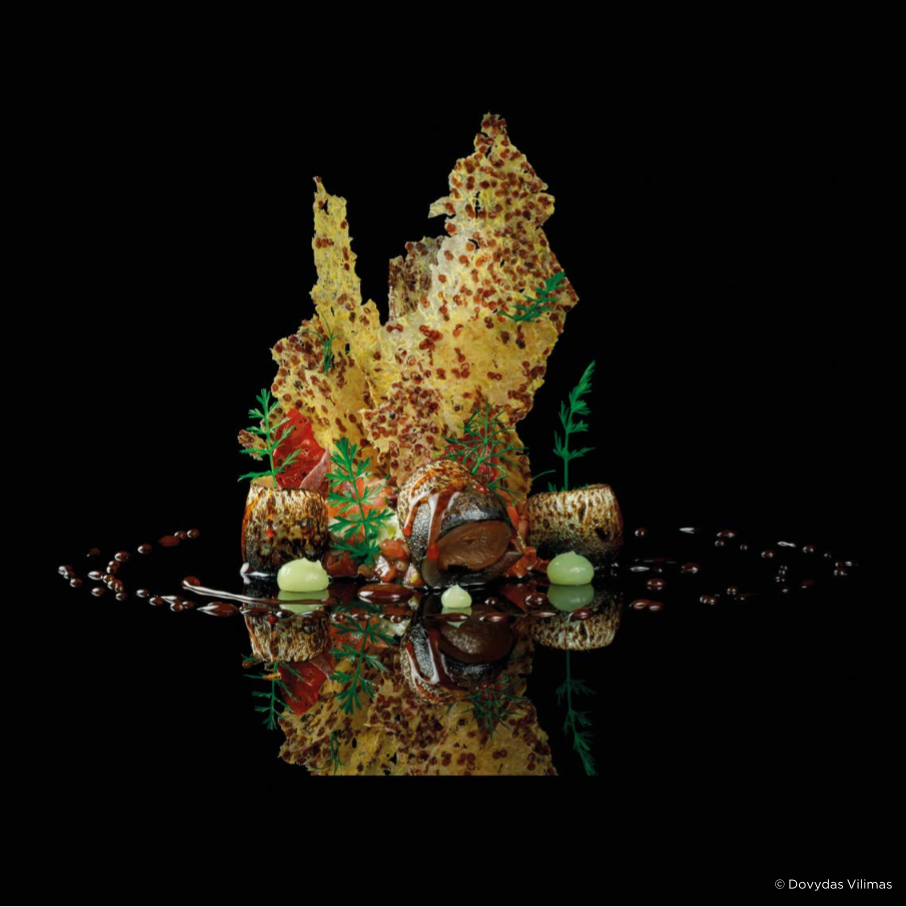 SARDINE & BURRATA
• 50g white sugar
• 50g salt
• 1 orange
• 1 lemon
• 10g chopped dill
• 1 Tsp white peppercorns
• 1 Tsp fennel feeds
• 3 fillets Qwehli® sardines
Mix sugar and salt. Use a Microplane® and zest orange and lemon. Mix well, cover and cure the sardines for 20 minutes. Rinse and pat dry.
---
TOMATO CARAMEL
• 500g vine tomatoes
• 10g white peppercorns
• 2 cloves garlix
• 3 sprigs thyme
Blend tomatoes and garlic in the Thermomix®. Add white peppercorns and thyme. Cook for 20min. hang overnight. Reduce to syrup.
---
BURRATA & RICOTTA
• 500ml milk
• 20g white wine vinegar
• 2 sprigs thyme
• 3 cloves garlic
• 1 bay leaf
• 200g burrata pugliese
Infuse milk with other ingredients. Heat up to 82°C, add the vinegar. Once the whey separates, hang in muslin cloth overnight. Scoop out burrata and mix with equal of ricotta cheese. Serve with tomato and olive salsa.
---
SEASONING
½ shallots diced, ½ lemon juice, chopped chives, ½ lemon zest.

---
GARNISH
Shallot rings, lemon zest, Shichimi Togarashi, Kalamata olive cheeks, quinoa chips.
PLATING
Mix burrata mix with all condiments then put on the center of the plate. Burns slightly the sardines with a torch, put garnish and chips and finish with tomato caramel.