QWEHLI® KING SALMON « FLOATING ISLAND » CAULIFLOWER ROYALE, CAVIAR
Chef Gregoire Berger
– Ossiano Atlantis The Palm – Dubaï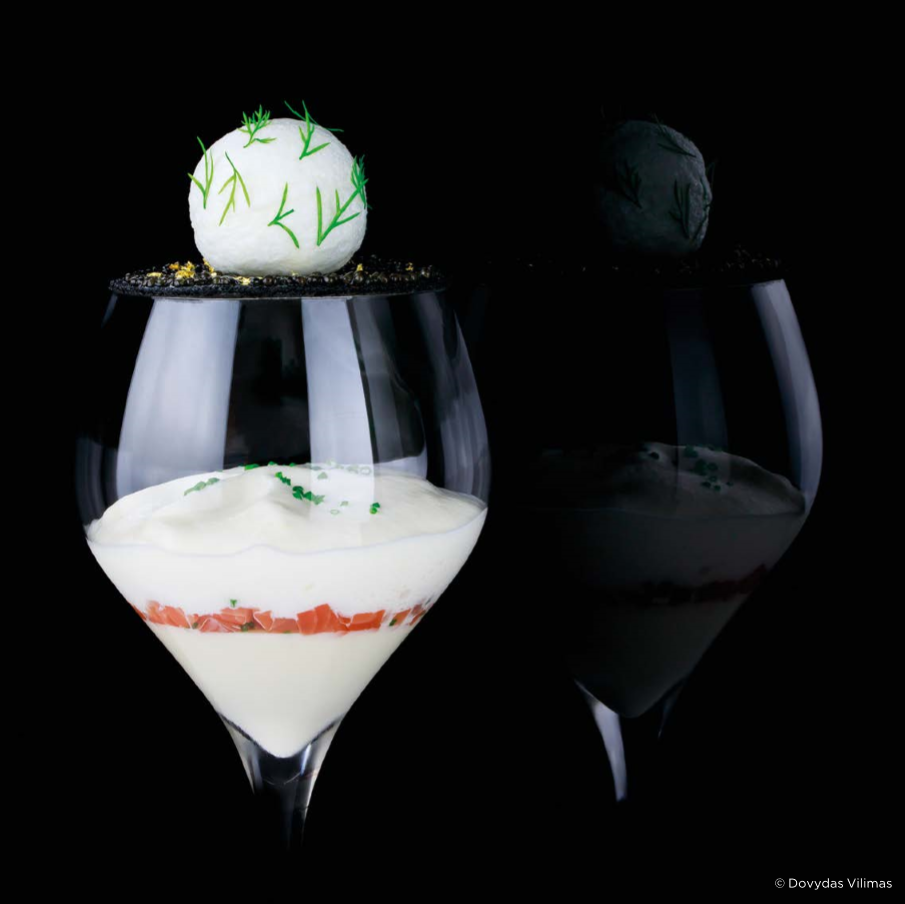 CAULIFLOWER ROYALE
(1) 500g chopped cauliflower
1 white onion
1L cream
Thyme
Bay leaf
Garlic
(2) 450g cauliflower cream
3 pc gelatin sheets
200g milk
Salt & pepper
(1) Cook all together until soft then mix in a blender.
(2) Warm milk, add gelatin and mix with cream, set aside on the glass.
---
SMOKED KING SALMON EMULSION
(1) 400g milk
100g cream
200g Qwehli King Salmon
Liquid smoke
(2) 2 eggs yolks
Juice of 2 limes
Lime zest
Salt & pepper
(1) Infused milk & cream with liquid smoke, add salmon during 30 minutes.
(2) Cook with egg yolk like "crème anglaise", add gelatin, cool down rectify seasoning and add lime juice and zest. Make an emulsion with a hand blender.
---
WHIPPED EGGS
3 white eggs
1 pinch salt
1 Tbsp. sugar
Whip eggs with a bit of salt, then add a pinch of sugar to fix it then put in greased half sphere flexipan and cook in steam oven 10 min at 70 degrees.
---
KING SALMON TARTAR
Mix 200g of salmon, chives, shallots and olive oil all together, add seasoning.
PLATING
Put salmon on the top of the cauliflower cream, then put Sturia® caviar (3g), emulsion, and finish with whipped eggs.