YOUNG AND AMBITIOUS BUT ALREADY A SEASONED SAILOR, SÉBASTIEN BIOLCHINI IS AT HOME ONE THE WAVES !
"Being a sailor is something you feel in the pit of your stomach, it's visceral. You have to be born with the smell of fish in your nostrils if you want to live with it all your life."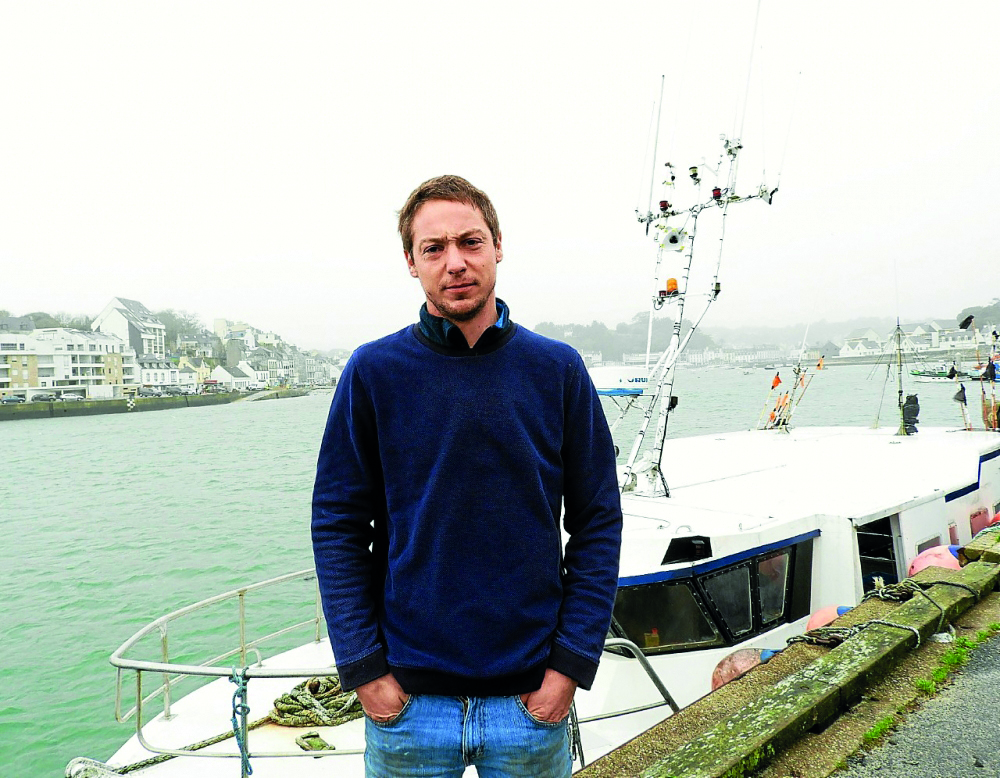 We collect our Qwehli ray at the Audierne fish market, the day's catch freshly unloaded from the Mestelen, Sébastien Biolchini's gillnet fishing boat.
He may just have spent 12 hours at sea but Sébastien Biolchini, an independent fisherman, is still happy to answer our questions.
With the Biolchini's fishing is a family affair. Yet it wasn't Sébastien's immediate career choice. The decision to breathe the ocean spray every day, heading out from the small Finistère harbour of Audierne to fish for ray, was one that he took some fifteen years ago, at the age of 20.
The Raz de Sein, with its currents, blustery winds and rolling swell, has since become his second home. A challenge he faces every day aboard the Mestelen, his 11.98 metre gillnet boat, in the company of his three employees and intrepid little dog, a Jack Russell that answers to the name of Emile.
WHAT ARE THE SPECIFIC FEATURES OF GILLNETTING ? 
"We fish by day along the Brittany coasts, alternating the species caught according to the seasons, in the summer we specialise in fishing for ray. In winter we tend to target pollack, bream, hake and other noble fish such as turbot.
For this type of fishing we use a dormant system, in other words we set the nets fifty or so kilometres off-shore and return 48 hours later, pulling up the nets once the fish have been caught. Each net has two ropes, a top one fitted with cork floats, and the other with lead sinkers to pull it down to the bottom.
Ray is a solitary fish living on the sea bottom, catching it needs patience and plenty of time. The mesh size of the net is primordial for this fishing technique and varies according to the species targeted. For the spotted ray, for example, we use nets with a mesh measuring around 135 cm and a length of 50 metres. We can lift up to 200 nets per day."
A TYPICAL DAY ABOARD THE MESTELEN ? 
"It all depends on the time at which the fresh fish is sold at the market. In Audierne it begins at precisely 4 pm, which is why we set out late at night or very early in the morning. We generally leave port at around 3-4 am. It then takes about 1½ hours to reach the nets set two days earlier. My role is to keep an eye on everything, which often means having eyes in the back of my head! When we're manoeuvring I need to keep the boat stable, always staying vigilant and watching what we're bringing aboard. Danger is everywhere on a fishing boat… The net can easily get caught in the propeller and an injury happens very quickly.
Once all the nets have been raised and reset, and only once the catch is safely stowed, we head back to harbour to sell the day's fish at the market."
WHEN DID YOU LEARN TO SWIM ? 
"You often hear that in days gone by fishermen didn't know how to swim… As for me, I learnt as a child. Today, to become a professional fisherman you have to be able to swim 50 metres with the certificate to prove it! And other medical and safety certificates are also required."
WHAT DOES QWEHLI MEAN TO YOU ?
"Qwehli is a very good alternative to fresh fish. Fishing depends on the seasons and there are times when offer and demand don't match, or when the quantity of fish landed is too high for the fresh fish market… And that makes it interesting to know that there are companies that play the game and, thanks to their expertise, are able to supply a high quality product all the way down the line. Particularly for superb produce such as ray… It's really a pleasure to know that our fish will be heading for some of the world's leading restaurants."
IF YOU WERE SOMETHING FROM THE SEA ?
IF YOU WERE SOMETHING FROM THE SEA?
"A merman..! [Laughter] No, more seriously, I'd maybe say a sea mammal for its majesty, or a fish that is really good to eat? No, finally, I'd go for a lobster, that way I can defend myself with my claws!"
YOUR FAVORITE DISH?
"If I had the choice, a good lobster stew, or a grilled rock lobster!"